The alarm started blaring as soon as I opened the door. I yanked her in behind me and closed it, spinning her into my arms. It was like someone turned up the volume on life. The alarm now seemingly twice as loud and echoing, announcing our presence for blocks in every direction. Its a scare tactic, I re-assured her, 98 percent of people would be frightened off by it. Then i kissed her on the cheek and walk hand in hand with her into the wide open emptiness, as the alarm screamed a song of urgency and fear from the sky. It screamed at us, warning us of the danger that surely must follow. I continued to re-assure her, and to re-assure myself.
She calls out to me
She is virtually ignored
She wants me inside of her
Knob Hill Farms was a Toronto based supermarket chain that operated from 1951 to 2001. It was founded by Steve Stavro, who was also well known for his relationship with the Toronto Maple Leafs and Toronto Raptors. Mr. Stavro's groundbreaking concept of giant Food Terminals, such as this 226,000 square foot grocery superstore in Oshawa, Ontario, are seen as a predecessor to the modern box stores that litter the North American landscape.
Knob Hill Farms converted the abandoned Ontario Malleable Iron Company Limited's factory in Oshawa into what was described as the world's largest food store, and it officially open in 1983. Spurs for both Canadian Pacific and Canadian Nation Railway lines led directly to the store, which also housed a card shop, bakery, video rental store, pharmacy and dentist's office. The Ontario Malleable Iron Company used the building as an iron foundry after 1898, but the company began operations at the site way back in 1872.
After many re-assuring words and a couple dozen photographs, the alarm stopped. A sigh of relief exuded from inside her and a sense of calm returned. Her eyes smiled, as did her mouth.
She sounds the alarm
She keeps yelling
She introduces herself
She feels vacant, like when her father died.
She smiles
Again, the silence is broken by the screaming alarm. It tells us to get the fuck out of here with it's screeching high pitched rings. Its just a warning shot, its all bluff, I told her, looking her right in the eyes. A sense of urgency and panic is the natural response to ignoring it, I said. We have been programmed since childhood to react a certain way to sirens and alarms. We equate these sounds to danger and urgency and that is exactly what they are counting on. They expect us to run. It is likely a very successful and cheap alternative to hiring full time security, and I can guarantee you that the police would not be wasting resources on responding to this alarm, unless the security guard across the street or someone else called it in. The alarm stopped again, its final chime lingered in the air for seconds. We continued to pass the camera to and fro, as is our routine. I was proud of her. I told her that.
She listens
She looks back
She feels trapped
She opens up to me
She tells me that she doesn't want it to be like this
She shovels all the shit that life can throw at her
She works it
She is yelling again
She seems lonely in the staff room
She walks the linear path
She loves the dark
She is always playing mind games
She reflects on her inner beauty
She reminds me of these old commercials i used to watch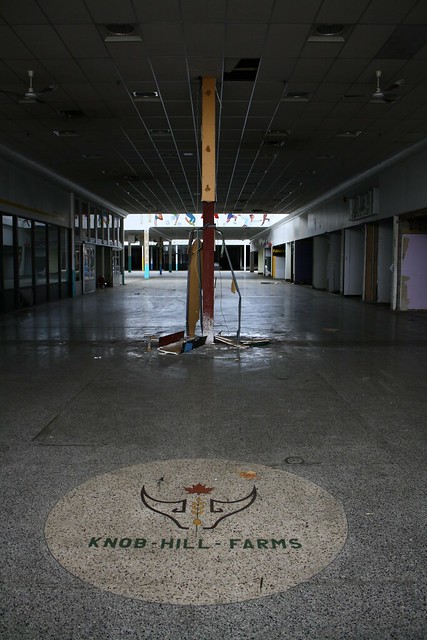 On and off, the alarm. A sense of calm and a sense of tension within her also turning on and off. Motion detectors in some areas could be avoided once we found them, but to explore the entire building, there is no way to avoid setting it off repeatedly. By the time we went upstairs, she had gained confidence. Likely a result of the fact that nothing had happened yet. Nothing was happening.
A few large letters remain in the back room on the second floor, set aside in pairs. They once spelled Knob Hill Farms, I assumed, followed by the thought that the rest of the letters had likely been stolen. A pipe is cracked in this room and spraying water onto the old wooden floorboards. All signs indicate that this is a very new leak. We kissed again, we danced. The alarm wasn't an alarm anymore, it was a song. It was a private symphony for only us and the whole world to hear. It was the chorus of us creating our own adventure. There was nothing cookie cutter or big box or prescribed theme park fun about it. It was a freedom song, and it just kept playing on repeat.
She leads me
She winks
She blinks
She bats an eye
She opens herself up to me again and again
She gives freely of herself
She never whispers
She exudes beauty from within
She spells it out
She voices her opinion
She never stops crying
She reaches for a tissue
She cries a steady stream of tears
She wipes her eyes
She leads
She follows
She points out the chair in the corner on time out
She is happy here
She screams yet again
She makes me promise that I will return to her, and I make that vow.
I remember shopping here as a child. I remember the cheesy commercials and the corny Christmas jingles. And now I'll never forget the song she sang and the dance we danced on this day.
She and her both, I love them.
click here to check out all of jerm & ninja IX's ABANDONMENT ISSUES